Hemp flower is the dried and cured buds of the hemp plant, which is a strain of the Cannabis sativa species. It contains high levels of cannabidiol (CBD), a non-psychoactive compound, and very low levels of tetrahydrocannabinol (THC), the psychoactive compound found in marijuana. Due to its low THC content, hemp flower is legal in most states and can be used for a variety of purposes such as smoking, vaporizing, or as an ingredient in making products like tinctures, edibles, and topicals.
Hemp flower is known for its natural, earthy aroma and its relaxing and calming effects. It can be used to help with issues such as anxiety, stress, pain, and insomnia. The high CBD content in hemp flower can also support overall well-being and can provide a sense of relaxation without the "high" associated with marijuana use.
Hemp flower is available in various strains, each with its own unique aroma and flavor profile, and it can be consumed in many ways such as smoking, vaporizing, and infusing it in food or drinks. It's important to note that the legality of hemp flower varies by state, so it's always best to check the laws and regulations in your area before purchasing and consuming it.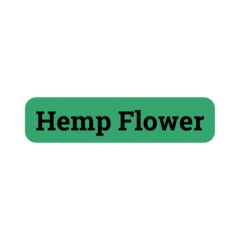 No products found